Everyone knows well that creativity takes time which is not possible for every job so we always try to find pre-made vector images to use in our personal and professional projects. We don't get extra time while working on professional projects and can't take risk in drawing something which can be easily found on some freebies sites for free.
So, we can call it lifesaver for an artist who always needs such useful stuffs. But, you need to make good selection of such websites, so here we made a list of top 10 websites which contain free vector arts for free. Hope, you would love to bookmark these websites.

Vector Portals is one of the great platforms for graphic designers, comprises of free vector designs, logo images, flags, maps and other clip arts etc. for both personal and professional projects. The user interface is really pleasant of the site that is easy to navigate as well. You can find individual designs using filter option and search bar. You also can submit your vector designs and can buy premium designs too. If you are a Photoshop expert, then there are lots of things available for you on Vector Portals.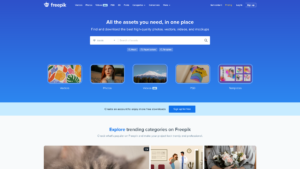 Founded in 2010, Freepik's mission has been to provide free, quality checked design assets for digital creatives to use in personal or commercial projects. With a fast growing community of contributors uploading quality vectors graphics, logos, and icon designs on a daily basis, there are millions of resources all available in SVG, PSD and PNG formats. Its powerful search optimization and intuitive website layout allows users to find the most specific requirements easily and efficiently. Free assets will need attribution. Yet, premium members will benefit from no need for attribution and full access to a range of features that will streamline your creative workflow.
Fromdev.com publish many freebies and giveaways for our readers. Many of past giveaways were free icons and vectors that include free download of files including SVG, PNG, EPS and other high resolution scalable formats.
This website has 50+ high quality folder design templates for free download.
Deviant is another big name of creativity where you can get all kind of vector graphics for free. The design of site is truly impressive and having lots of other useful stuffs including stock images, tutorials, textures, 3D models, video resources & tutorials etc. Here also you can submit your own work.
Cool Vectors is also a popular name added in our list, comes on every artist's mind while searching for free vector images. All the vectors are rated and categorized nicely so you can find anything as per your need. The site offers website elements, shapes, signs & symbols, spills & splatters, detailed illustration, grunge, human vector graphics.
Here, you can not only download free vector designs and stock images but also can submit your own. All the vectors images and clip arts are designed neatly with high resolution and the detail of each image are mentioned on the right side along with license type. Through search bar, you can find any image from the categories (nature, abstract, icons, illustrations, Misc, symbols).
This is special from others as contains some extraordinary stocks including free T-Shirt designs, symbols, icon, stylish patterns and all other vector images. It has a collection of more than 7,800 free vector images. Here also, you can find your favourite one though categories.
This is community based site having the work of other vector artists. From here you can download all the graphics for free to use in personal and professional's projects. But you need to check licence type before using any image.
This is quite different from all. When we ever need to use shilloutes images, we open one and only site all-silhouetts.com having a great collection of shadows, symbols, objects etc. All the images are categorized perfectly so anything can be downloaded easily as per need. The website has great collection of such vector stuffs more than 8,694.
Qvectors is also a good source of free vector graphics and other stock images. You can know value of each product through star ratings. The site has allocated the products in categories which is the best medium to find particular one.
This is personal blog of designer Chris Spooner having large number of free vector images, tutorials and other freebies. If you are a newbie in illustrator and want to be an expert, then Spoongrphics videos tutorial will be very helpful. The site is also good for Photoshop design creations and you can take premium sponsorship of this site.
How can we forget Fudgegraphics.com while looking for splatter and drips vectors. The website contains huge selection of vector freebies, Photoshop brushes and textures. The site was launched in 2008 and giving full support to the beginners with Photoshop tutorials. Here, you will get professionally designed tutorials and textures with high resolution which can be used for both personal and professional purposes.
All the websites offer free stock images which you can use for your projects. But, before downloading them; you need to check licence type.
Deepak Raghav is a distinguished research consultant and writer. He is having vast experience in writing and Digital marketing and now operates his own blog MyApps4PC on the regular basis. You can connect with him on Google+.